Mammoth Garage of White Plains
From: https://www.hemmings.com/stories/2010/04/08/was-the-privates-car-a-g-j-g
The Mammoth Garage is no longer and the building was demolished for The Mitchell construction on Mamaroneck Ave. This is the story by Daniel Strohl
"The private's car and the Mammoth Garage
By Daniel Strohl on Apr 8th, 2010 at 8:02 am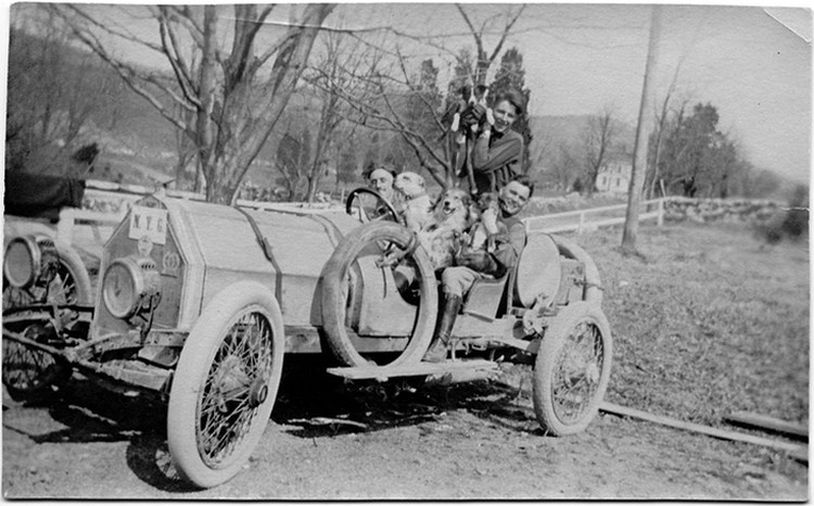 ---
In This Article: Category: Motorsports
When we presented the photo that Marianne DeAngelis of the New York Guard sent us of a mystery racing machine helmed by Private Lewis van Alstyne and his dog Viola, much of the speculation of the identity of the car circled around Fiat or, possibly, Thomas. Yet David Greenlees is very sure neither of those answers is correct; instead, he's almost positive that the car in question is a G.J.G. More specifically, he believes it to be a one-off racing machine built by G.J.G., and – get this – he thinks it still exists. G.J.G., for those of you without access to a Standard Catalog, stands for George Jacob Grossman, designer of the vehicle, built in White Plains, New York.
Grossman appears to have come from a well-to-do family: His father owned a successful furniture manufacturing business, and the family bankrolled the innovative construction of the factory as well as the company itself with a combined capital of $10,000 (about $241,000 today). Starting in 1909, Grossman offered two basic lines, the 26hp Junior, riding on a 104-inch wheelbase, and the 42hp Senior, riding on a 121-inch wheelbase and bestowed with dashing names like Pirate, Scout, Comfort and Carryall. Some sources claim the G.J.G. was nothing more than an assembled car, built from European components, but the Senior was reportedly able to reach speeds of 65 MPH, causing some observers to claim the initials stood for "Go, Jesus, Go!"  Grossman was involved in racing: He offered his garage as the headquarters for the Isotta Fraschini team in the Briarcliff Race of 1908, and he is known to have built at least one race car himself, using a 60hp Wisconsin T-head engine and Brown and Lipe transmission on a Pirate roadster chassis. After G.J.G. advertised it as capable of at least 70 MPH, Paul G. Thebaud of White Plains bought it and entered it in the 10-mile non-stock free-for-all race against three Mercers, a Maxwell and a Fiat in the October 1912 automobile, motorcycle and bicycle races at the White Plains fairgrounds; we so far have found no record of how well Thebaud performed in that race.
---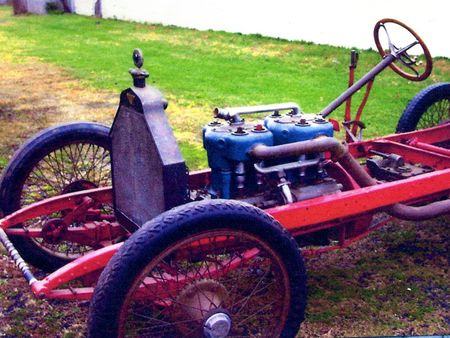 According to subsequent owners of the car, it at one point threw a rod through the crankcase, then was hit broadside, but repaired both times. At one point, it was owned by Frank Snook, then later by W.W. Bogardus, until he sold it to Tony LaPorta in 1955. LaPorta advertised it in Hemmings in 1991 (asking $70,000), but held on to it until 1995, when he sold it to Fred Hoch of Schaeffer and Long, the current owner of the car, who supplied us with much of this information and many of these photos.When exactly Lewis van Alstyne owned it, we don't know. We do know that he was born in 1893 in Kinderhook, New York, served in World War I (which fits with his service in the New York Guard), attended the Massachusetts State College and became renowned for his landscape artistry before dying in 1951.
As for the G.J.G. factory, when the Grossman family opened it as the Mammoth Garage in 1908, not far from the intersection of Post Road and Mamaroneck Avenue, it garnered quite a bit of press for a couple reasons. One, it was allegedly the largest garage in the world, thanks to a new construction technique which involved concrete beams spanning the 80-foot width of the garage and which allowed for a completely pillarless floorplan (depth of the garage measured 250 feet). Two, the façade of the garage featured three tusked mammoth heads made of plaster, each two to three feet tall and fitted with orange light bulbs that glowed at night.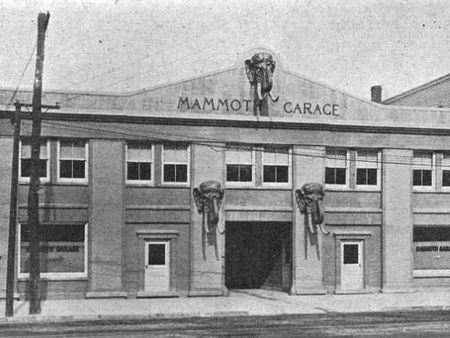 In 1913, Grossman found himself defending himself against a tire company's lawsuit over the design of the car's inverted triangle logo; while he won the lawsuit, he soon after told the press he intended to manufacture his cars elsewhere, but then sometime before the end of 1913 closed up shop for good.
According to Renoda Hoffman's book on White Plains history, "Yesterday in White Plains: A Picture History of a Vanished Era," the building later housed (sans the mammoth heads) the White Plains branch of the Uppercut Cadillac chain of dealerships, the largest Cadillac distributor on the East Coast. By the late 1930s, the building housed an Oldsmobile dealership. Hemmings Muscle Machines editor Terry McGean, who grew up in White Plains, said he recalls the building housing a drugstore when he grew up, a memory that Hoffman confirms, and today, its façade much altered, it appears to house a dollar store and a billiards hall.
Was the private's car a G.J.G.? The shape of the radiator on the G.J.G. speedster seems slightly different, but is the closest shape we've seen to the shape of the radiator on the private's car. The frame, however, appears to be a perfect match (see the four rivets?), as do the gas tank and shock absorbers. Plus, I'm not in the habit of doubting David Greenlees's expertise in such matters."