Climbing Towers and Crossing Bridges
Do you remember ever climbing to the top of a tower? I have done so many times but mostly when I was younger. I was less scared of heights back then. I have no trouble on top of mountains or cliffs cause they are naturally made. Do not trust man made towers or bridges as much.
Remember going up the Washington Monument in Washington DC where I believe we walked down after going up in elevator. Climbed the Statue of Liberty as a young child and then when in college. Climbed fire towers at Gettysburg with father and in some woods in Pound Ridge, NY.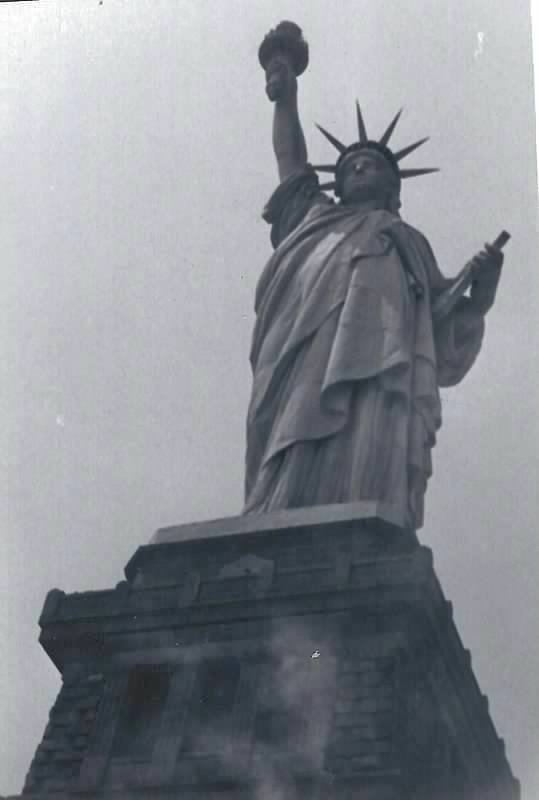 I remember going up Bunker Hill monument after doing the Freedom trail. It took me 20 min to cross the center of Charles River where the street opened to a metal see through grate. I was scared out of my life. Reminded me of Brooklyn Bridge where the rushing traffic made the old planks harder to cross (planks were replaced).
Bunker Hill, Boston
Walked across Hudson at Poughkeepsie and actually the cement paved former rail track was not scary at all. But once crossed an old rail track in the snow on a hike and I was scared out of my mind.
I have driven over bridges but when I was doing the driving, it was not such a great experience. Like over the Golden Gate, the former Tappan Zee bridge in NY in high winds and driving CJ Jeep and other bridge crossings for Hudson (Bear Mountain, Rip Van Winkle) but most scary ones were those going to Newport RI and once during a gale storm. I was like the only one on bridge driving into the wind and actually stopped and kissed the ground after getting over the 2nd. The winds were like over 40 mi an hour with pelting rain. It was worth the trip since Newport was a great place to visit
Crossed a lot of bridges in my trips to London and Paris. There are lots of them. Tower of London Bridge had a tower in the center area to climb or use the elevator to then cross on top. I even crossed that bridge with locks that fell into river in Paris so they had to remove the locks.
Travelled south on 95 a number of times and lots of bridges to cross on the way south to Virginia, Georgia, Asheville NC, South Carolina, Savanah, Charleston, Outer Banks, and many others. Lots of bridges to and from and on Long Island.
A few bridges for pedestrians in Israel into old City of Jerusalem. Those were not a problem cause many had stone. Went from Mamilla Mall to Jaffa Gate. Polished stones in old city were very hard to walk on. I had a cane.
Lots of bridges going 95 to Stamford, Mystic, and Norwalk. In 1983, my fears about bridges manmade were confirmed. A 100 ft section on Interstate 95 bridge crossing Mianus River in Greenwich, CT, collapsed. I recently crossed this bridge and every time I do, I remember this collapse.