White Plains Revitalization; Its Vanishing Past
In February 2019, one of White Plains' older homes was demolished. Former Rocco Briante house was built around 1913. Rocco Briante was a builder of homes and other structures. House at 40 Chatterton Parkway had become a "zombie" property. Neglect obviously caused severe deterioration of not only the house but to the stone stairs that rose above the street.
The neighboring community of Battle Hill pressed for something to be done by the City and this was the result. The three lot property was to be redeveloped into 6 apartments that the city approved some years ago (2017). The developer asked for an extension in March 2018 but due to money issues, the plan had never begun. Therefore, the building that was to be demolished became a problem as it was left to deteriorate. The property now seems to be up for sale. Without redevelopment, the grounds will continue to be an eyesore and danger to the community as has other areas around the City that have had demolished structures while the plans for redevelopment of the property seems to have been abandoned.
When a structure is created for a particular purpose, its design often reflects its purpose. But, over time a constructed building can lose its occupants and often a structure left empty is neglected. Without maintenance, repairs or updates a building will deteriorate. Older structures often become a burden to landlords not having the revenues to maintain them.
Owners might find that selling an underused, empty or older outdated structure the only way to recover their loses. The property might be sold to a developer with the intention of replacing it with something new or for them to renovate. Sometimes a repurpose of its future use is necessitated. A community's zoning might dictate its replacement but a request for a zone change is usually made by Common Council since revitalization is needed for the City's survival. But, often the character of a neighborhood is changed and urban blight creeps in.
……………………………………………………………..
White Plains (WP) is one of those cities that has undergone many changes during its long history from its beginnings in 1683. The railroad coming in 1844 from NYC had a huge impact on the small village of farms that reemerged to become the modern City that it is today. WP revitalized much of the its Business District in the 1960's & 1970's by tearing down most of the area and rebuilding newer structures. As a result many older structures were destroyed. Even today this process has continued and despite the formation of a Historic Preservation Committee in 2015 that identifies and gives landmark status to historic structures; many of our city's older structures have been destroyed.
One of the city's oldest houses, the Gilbert Hatfield house at 636 on Hall Ave. was destroyed some years ago (around 2012) to be subdivided into two new structures. This house had predated the Battle of WP (circa 1770) and was used by Americans during battle. It was located on Hatfield Hill on what is today's Hall Ave.
The structure known as Soundview Manor that is on the National Registry of Historic places is in very bad condition. After B&B was closed the buyers of the house continued to ignore the structure that was damaged from leaking, and put in a plan with City to subdivided property and build new homes that included the demolishment of the older home. Historic Preservation Committee stopped the demolishment by giving the manor Landmark status. But with the continued deterioration, who knows the future of this former grand home.
More recently, two buildings on Mamaroneck were leveled. The former Mammoth Garage was where the city's first cars were made and the building was over 100 years old. The building next to it that dated from 1928 was used by B Altman Department store when it opened in WP and years later by Alexander's before it had its own home on South Broadway (repurposed for Westchester Pavilion and then razed around 2017 for new development that has stalled).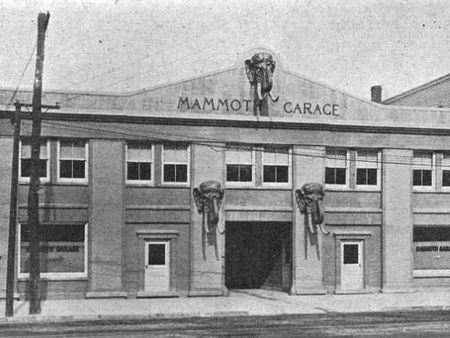 Twentieth Century House Thomas E. Conklin (dating from 1924) used by Elk Lodge at 115 N Broadway demolished for The Reed (2015, Vibe Living).
Another issue is long time businesses in WP leaving the City after decades. Before publishing my book, White Plains, New York: A City of Contrasts Georgeau Furs at 212 E Post had closed (2013) moving to NYC (in business for about 80 yrs). It is now a Barber Shop.
Tighes Tavern on 174 Martine Ave closed its doors in Feb 2019 after being in business since 1935. It reopened as another restaurant.
Ridgeway Golf Club (1952) closed in 2011 and sold its property to the French American School of NY (FASMY) (2012). After a long process involving law suits, the school was given permission to open a middle and a secondary school in 2017. Now FASNY is selling three sections of the old golf course that first started as Gedney Farm Golf Course in 1923 serving the Gedney Farm Hotel till in burned down in 1924.
Now in danger of being leveled are most of the structures making up the former Good Counsel Complex at 52 N Broadway. Complex sold to a developer in 2015 with the closing of Good Counsel Academy and the elementary school moving on. Now, with Landmark status (2018) the plans have changed but not sure whether they have been approved.
New owner of YMCA on Mamaroneck Ave announced that they are planning to demolish building for a rebuild in 4/2019 but this did not happen till 2021.
City's website has an interactive section on projects proposed and approved by the Common Council. But has WP become addicted to new development sacrificing not only its history but causing more environmental issues? Most new developments approved and planned include luxury high-rise apartment buildings with or without retail space.
But the city is still oversaturated with office and retail space. There are many apartment units within buildings that are vacant. There are signs all over the city advertising vacancies. City thinks that these projects will revitalize the business district and by bringing in more residents sales tax revenue will increase. But, for how long? Without a continual commitment to improve neighborhoods and the business district there will be a continual cycle of people, businesses and retail moving in and out of the City. Everything ages and the new once again becomes worn and run down. If the present owners can't retain retailers now, how are they going to do this for a new development after a number of years when things get older?
The lack of convenient inexpensive parking, dirty unmaintained sidewalks and streets are just part of the problem. Construction often brings years of noise, pollution and congestion. Stalled projects create an eyesore in neighborhoods. City has started putting up signs outside parks or in green areas causing unnecessary blight and ugly clutter. Some neighborhoods outside of Business District feel like their areas are being neglected.
Recently, there has been movement on the part of the City to improve the business district but it is limited. The White Plains Public Libray Plaza has recently been undergoing a major renovation that followed a redo of the inside. The MTA has been working since 2018 on a 92 million renovation of the White Plains Train Station.
Luckily a number of businesses have chosen to renovate instead of asking for a rebuild. Some remodels include Gateway Building, Westchester One (westchesterine.com) and Target. The Weschester, The City Center and The White Plains Plaza (1 N Broadway; 445 Hamilton) have done renovations. The former American Cancer Society building at 2 Lyon Place is being renovated (2018-19) after it was sold. But sidewalks and green spaces need attention as well. Crystal house seems to have done this recently.